In contrast to virtual reality (VR), where users are completely immersed in a virtual world, augmented reality visually extends the real world with additional virtual information (photos, writing). With augmented reality, for example, digital planning data can be efficiently matched with existing real geometries, as real and virtual objects are related to each other in 3 dimensions. There are numerous other business application possibilities. For example, 3D models of products can be experienced in a real context and facilitate the purchase decision. EXCIT3D programs and designs AR apps according to your ideas. We also offer pure web-based solutions (WebAR).
One example is our augmented reality app for RWE Renewables:
It enables customers and prospective customers of RWE Renewables to virtually experience a plant for the generation of green electricity. A rotating and talking wind turbine conveys interesting information to the app users in an easy-to-understand way:
Where does the renewable energy come from? What quantities of electricity can be generated by the plants and what can the green electricity be used for? Read more here >>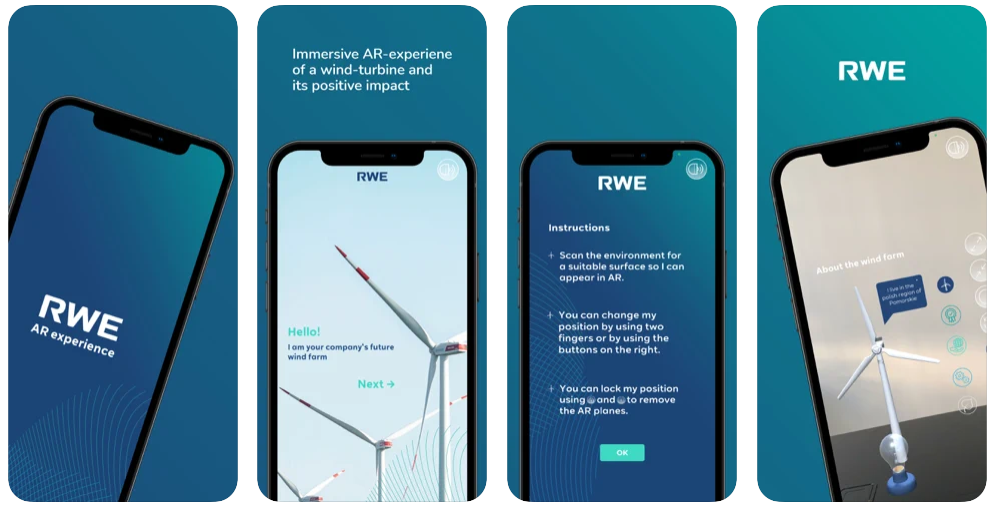 Another example is our AR app for real estate and architecture. The following application for our client, the E Group, shows the 3D representation of a planned building in real space including virtual info points with 360° tours. Read more here >>
Die nachfolgende Anwendung für unseren Kunden, die E-Gruppe, zeigt die 3D-Darstellung eines geplanten Gebäudes im realen Raum inklusive virtueller Infopoints mit 360° Rundgängen. Mehr dazu hier >>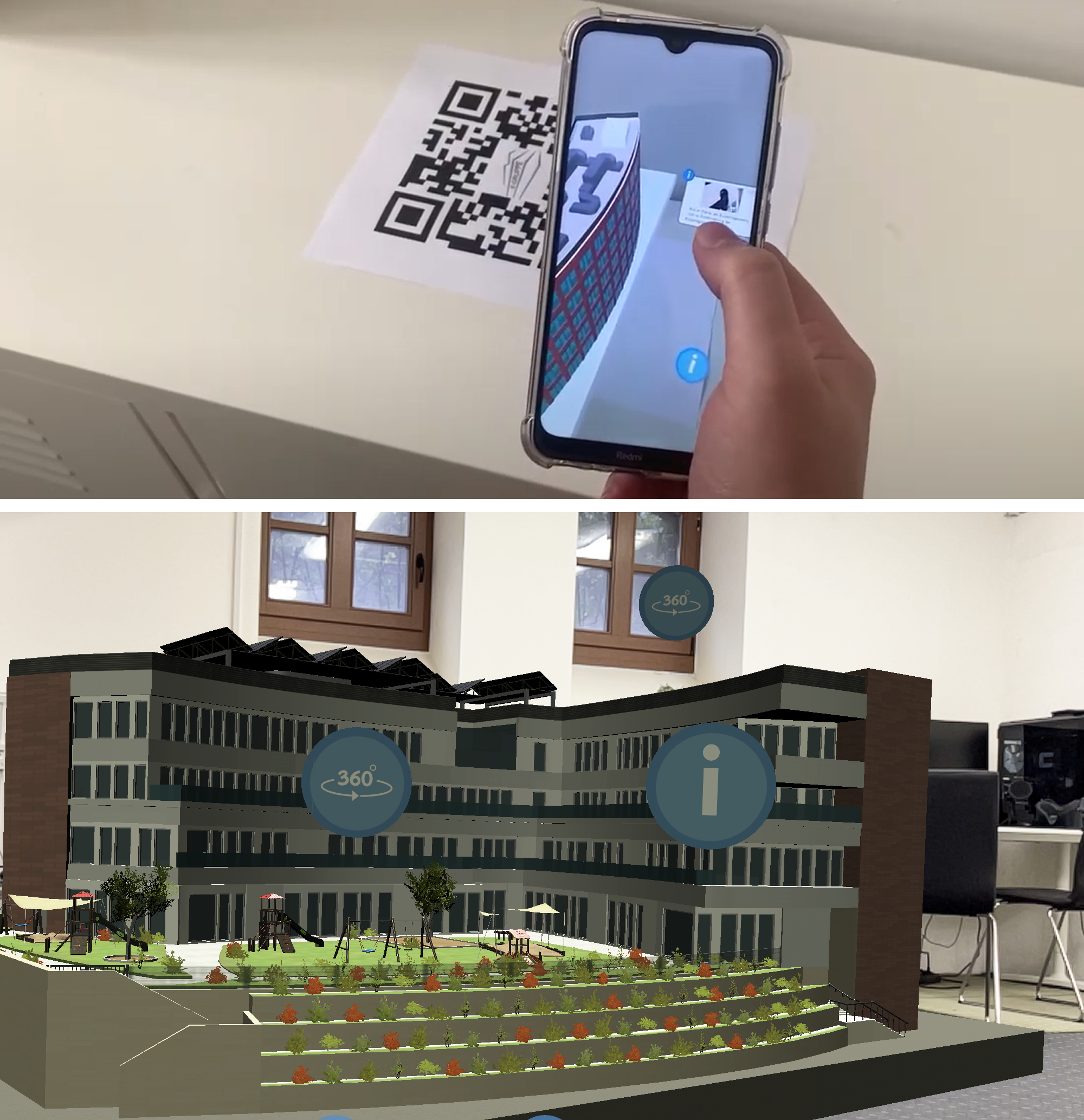 A third example is the AR display for museums, art and culture. For an AR application we realised for the Schlossbauverein Schloss Burg, we brought the former English Queen Anne of Cleves to life as the protagonist. See video:
Als technische Basis für die AR-Darstellung kommen Smartphones, AR-Brillen, oder Projektoren zum Einsatz. Mit den AR-Lösungen von EXCIT3D erhalten Sie für unterschiedlichen Anforderungen eine zukunftsweisende Lösung.
Leistungsstarke iPhones und iPads der neuen Generation ermöglichen es, digitale 3D-Objekte als Abbilder realer Gegenstände mit Texturen und Animationen in die Realität einzubinden. Mit seinem mobilen Endgerät bewegt sich der Betrachter um das 3D-Objekt herum und erlebt, wie der Gegenstand wohl real in diesem Kontext aussehen würde. Bisher waren dazu spezielle Apps nötig, die umständlich auf dem genutzten Endgerät installiert werden mussten. Ab jetzt lassen sich diese 3D-Objekte direkt auf Ihrer Website einbinden und mit dem iPhone betrachten. So kreieren Sie z. B. in Ihrem Online-Shop ein ganz neues Kauferlebnis und erleichtern Ihren Kunden die Kaufentscheidung. Überall in der realen Welt lässt sich auf dieser AR-Basis ein virtuelles Abbild eines Gegenstandes in 3D erzeugen.
Die möglichen Business-Anwendungen sind vielfältig:
AR for product development and design
Prototypes can be viewed in reality before production. Sources of error or design deficiencies can thus be discussed and avoided more easily before production.
read more>>
AR product presentations for online shops and print catalogues
can now be integrated as AR models in the online shop or on websites. This gives the customer the opportunity to view the product in its later environment. A cutlery set, for example, can be placed on the customer's own dining table before they actually hold it in their hands. This makes the purchase decision easier. QR codes or a link to such a 3D AR model can also be included in catalogues, flyers, brochures etc. Print products are given added value.
read more>>
AR for architecture, interior design
Customers of furniture stores can place the furniture of their shortlist in their own homes before buying it. Or the customer can try out how an accessory looks in different places in his or her home. A pleasant side effect: the probability of cancellations and returns is reduced.
read more>>
AR for city marketing and tourism
For the medieval town of Wassenberg in the Lower Rhine area, we realised the knight Gerhard as a virtual town guide. more >>
Also the WDR reported
AR for car dealerships
The 3D model of a customised car can even be placed on the floor of the car dealership in its original size. Customers can see whether they would like design elements such as a rear spoiler on their car, or whether they would be better off choosing a different colour instead of the one they have chosen.
Museums and galleries
Works of art can be experienced with the help of AR. Imagine a three-dimensional image of Mona Lisa suddenly standing next to the famous painting by Leonardo Da Vinci in the Louvre. Art becomes immersive!
Medicine and dentistry
The results of 3D X-ray scans (CT and MRR) can be visualised in such a way that new insights for treatments, operations and therapies are possible.
In addition to these application examples, there are countless others. Augmented reality is conceivable in many business models and can now be implemented cost-effectively. EXCIT3D GmbH can create a cross-system option for your area of application to view AR content in the real world. These can be easily integrated into your own apps and directly into your websites.
Augmented reality does not have to be expensive. AR representations of already existing 3D models can be realised quickly and inexpensively.
Contact us at info@excit3d.de.
We look forward to your enquiry!