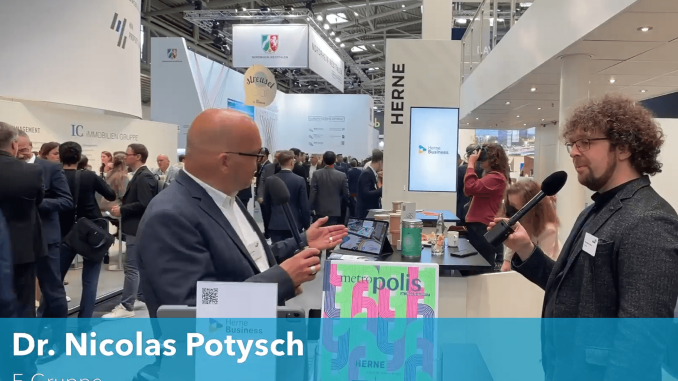 The specialist for sustainable commercial real estate development, the E Group from Herne, is showing digital twins of its planned buildings in an innovative, virtual way at EXPO REAL 2022.
Our success story with E-Group already began last year at EXPO REAL 2021: At that time, the trade fair exhibit was the now completed Europagarten, which we had modeled based on the architect's plans. With the augmented reality app we programmed and designed, the planned object could be viewed from all sides using a smartphone or tablet. The highlight was that you could go directly to a 360° tour of the building through the doors at the touch of a finger. Those who wanted to could, for example, enter the planned KiTA of the building and teleport from room to room. The trade fair visitors were given an all-round impression of the future of the city of Herne.
For this year's EXPO REAL, the task was to repeat this feat and even top it. On the parking lots of two planned buildings, the Kaiserquartier in Herne and the logistics hall in Sehnde-Ost (Lower Saxony), cars and trucks drive in AR applications.
The animated vehicles provide more immersion and a better, spatial perception. Together with the Europagarten, the E-Group app, which is available via the Google Play Store and Apple App, now already includes three projects.
At the trade show, E-Gruppen employees:inside present the logistics hall and the Kaiserquartier with virtual and augmented reality glasses.
(Video below: Short recording from the AR application for the logistics hall in Sehnde-Ost).
(Foto ganz oben:  Screenshot aus einem Interview von Herne.Business mit Dr. Nicolas Potysch von der E-Gruppe)