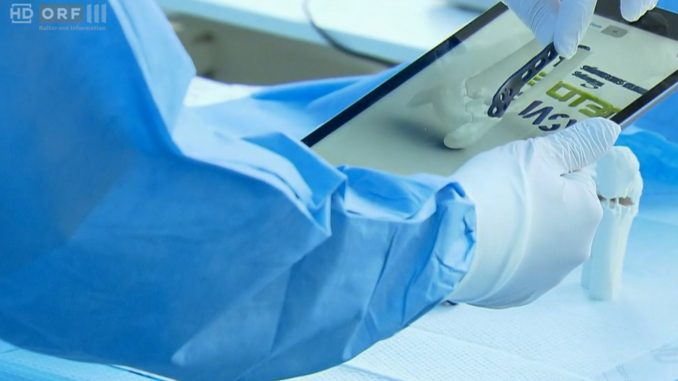 Austrian television reported on the 3D technologies of EXCIT3D GmbH, which help to perform surgical procedures in hospitals faster, better and more patient-friendly.
In particular, the benefits of 3D printing, augmented and virtual reality for surgery were discussed. The ORFIII programme was broadcast in the science series "treffpunkt medizin" under the title "Will health be digital?
This collaboration was organized by the 3D Competence Center Healthcare, an initiative of the Solingen Economic Development Corporation.
See ORF broadcast from approx. minute.  30:25 with EXCIT3D.
The Solingen Municipal Hospital and the Clinic for Orthopaedics, Trauma Surgery and Hand Surgery headed by Prof. Dr. Sascha Flohé are already working closely together with EXCIT3D GmbH to use 3D printing, virtual and augmented reality for the benefit of patients. They benefit from a faster, more efficient operation and a reduced risk of infection.
The specific case is the complex shoulder fracture of a young man whom we were able to help. The "3D Competence Network Medicine", a project of the Solingen Economic Development Agency, is working with other partners to develop Solingen into a focal point for 3D technologies of this kind.
The figure shows the patient's 3D-printed shoulder, which enabled the surgeon to prepare much better for the operation than would have been possible with the CT images on the computer.
Real Remote Avatar: Dr. Surrogate
Another project for the surgery of tomorrow, is our Remote Avatar, called Dr. Surrogate
The Real Remote Avatar from EXCIT3D is a real object, remote controlled in real time via VR.
---
The Real Remote Avatar combines in this the technologies from the IoT, Virtual Reality and 3D printing.
The EXCIT3D solution is about real-time remote control by VR (Virtual Reality). The physically existing avatar comes from the 3D-printer.
Depending on the application, control doesn't have to be based on VR; a PC with a two-dimensional screen, for example, is sufficient.
Interested parties, agencies and business who would like to try out the Real Remote Avatar live are welcome to contact us: Tel: 0212 128 55 30 E-Mail: info@excite3d.de
See the Real Remote Avatar as a VR remoted controlled model vehicle here: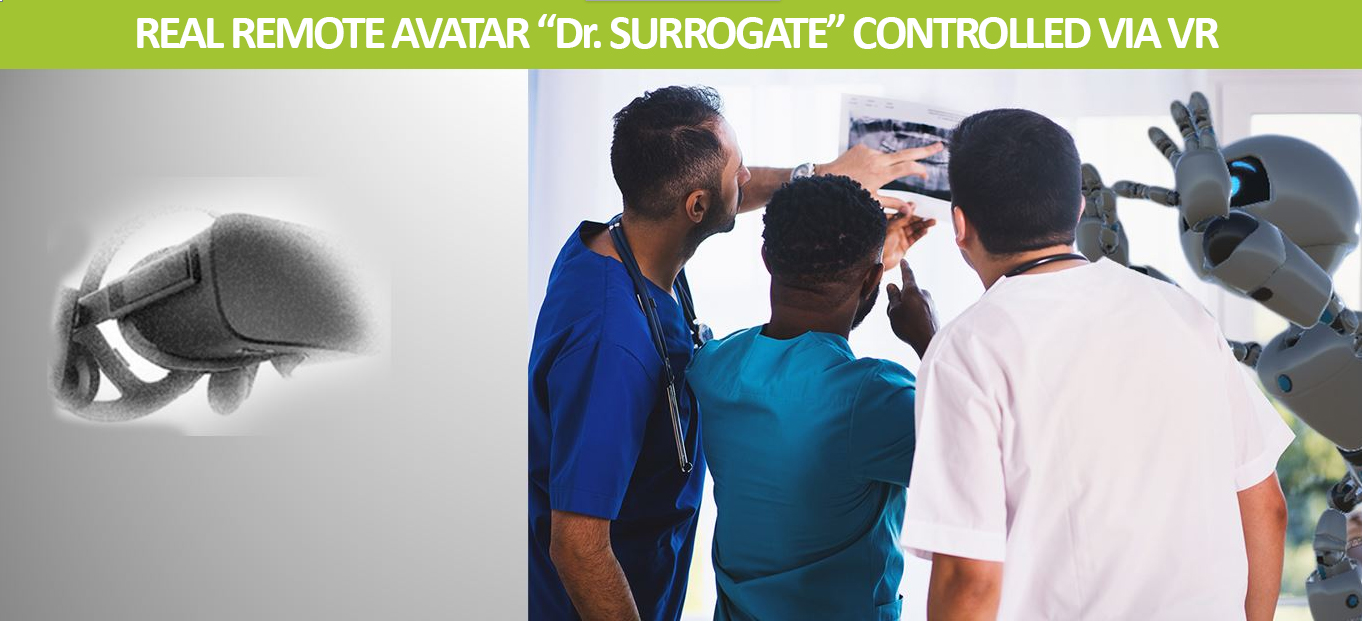 The Dr. Surrogate is in the operating theatre even though the doctor is on the other side of the world. The top surgeon controls the Avatar, directing the operation without being personally present.
the technology works, as you can see here from another example
Get in touch. We will create your Real Remote Avatar solution – for you and with you.
Tel: +49 (0)212 128 55 30
E-Mail: info@excite3d.de