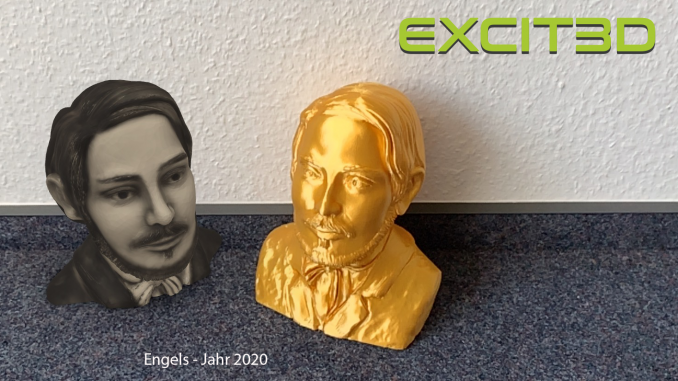 Even before his 200th birthday, we will present the famous Friedrich Engels of Wuppertal as Augmented Reality model and in 3D-printed version.
Friedrich Engels was a German philosopher, social theorist, historian, journalist, and communist revolutionary, as well as a successful businessman in the textile industry. Together with Karl Marx, he developed the social and economic theory now known as Marxism (see WIKIPEDIA).  Next year, Engels, who was born on the 28th of November 1820 in Wuppertal Barmen, would have celebrated his 200th birthday.
The democratization of production through 3D printers provides, as it were, communism with a theoretical foundation.
We are taking this bicentennial as an opportunity to make Friedrich Engels contemporary. Producing a 3D model of the young Engels using a 3D printer has a great symbolic power. For the means of production were a central concept of Marx and Engel's theory. The rule of the bourgeoisie depends on ownership of the means of production, they were, so to speak, the source of their prosperity. Today, however, anyone can buy a 3D printer for a few hundred euros. The democratization of production enabled by this technology thus robs communism of its theoretical foundation. If everyone can become a producer, in the long run there will be no factories in which the workers can be exploited.
Modelled on the basis of an old photograph
So as to print the young Engels, we first modelled him in 3D using an old photograph. Then we printed it in colour and in monochrome and created an augmented reality version. With an iPhone or iPad, Friedrich Engels can now be brought into his own apartment or the classroom and put on the table. To do this, just open the following page in the Safari browser: www.mobile-ar.de/excit3d-models/.  Then tap the photo first, then the "AR" button and tap the image of your camera again. You can then scale and rotate the young Engels or view him from all sides.
Cooperation with the City of Wuppertal and the Bergische Drei
At the request of the city of Wuppertal we have scanned a bust of the older Friedrich Engels by the artist Heike Insing-Alms on the occasion of the 200th birthday and we 3D-printed it in different sizes using various materials. MORE ON THIS.  We also created an AR model of the older Engels that can be viewed here using an iPhones. In addition to other busts of Friedrich Engels in small format, the association Bergisches Land Tourismus Marketing (Bergische Drei) displayed models of Schloss-Burg made by our 3D printers. The Bergische Drei presented the city triangle at the "Germany Travel Mart™" (GTM) in Wiesbaden – a trade fair for the travel industry.  A website was created for the Engels Year, during which numerous events will take place in Wuppertal.